Meet the Team at All Cats Care Center
Veterinarian & Owner
Dr. Peggy
Although she was raised on a small farm surrounded by all sorts of animals, Dr. Peggy didn't always know that she would work in the pet-care world. One day while driving to the University of Rochester to accept a managerial position, she began to wonder what she would do in a few years when her daughter moved away from home to begin college. All at once, a lightbulb went off: veterinary medicine was her true calling! From that day forward, Dr. Peggy dedicated herself to the animal-care profession and hasn't looked back since.
Dr. Peggy graduated from the University of Illinois with her Doctorate of Veterinary Medicine. She started working in a companion animal hospital after school, where she gradually found herself drawn to feline medicine. Dr. Peggy then made her way to Maine, where she signed on at her first feline-only practice; it wasn't long before she returned to Rochester to work at another local cat-exclusive hospital and further build her knowledge of feline medicine. In February of 2003, she opened the doors of her very own clinic and has owned and operated All Cats Care Center ever since.
Medically, Dr. Peggy enjoys surgical work and the biology behind her patients' bodily functions. Most of all, she enjoys interacting directly with her clientele; every day, she's humbled to serve the area's families with her expertise and compassion.
At home, Dr. Peggy lives with four wonderful cats of her own: Mr. Chubs, a former stray who lived at All Cats Care Center for a period of time; an elderly feline named Crazy Legs who still manages to climb onto chairs in her old age; Pipa, a sparkling black cat who enjoys hunting wild critters; and Milo, a lover of playtime who frequently instigates games of tag with his fellow housemates.
When she isn't tending to the needs of the area's cats here at the hospital or enjoying the company of her own feline friends, Dr. Peggy can be found spending time with her daughter, growing every size, shape, and color of plant and flower in her extensive backyard gardens, and attending wine seminars around the area.
Our Care Team
Hannah

Practice Manager
Hannah has been an animal lover her entire life. Growing up she had just about every pet imaginable. She always dreamt of having the opportunity to work in the field of veterinary medicine, and finally found her place when she joined the All Cats Care Center team in February 2022. The best part of the job according to her is getting to know the clients, and learning their cat's unique quirks, and personalities. Hannah is no stranger to the joys and challenges of having cats, she currently shares her home with her five beloved felines, Bear, Jake, Noah, Hazel and Violet. When she is not in the office, you can find her riding her horse Peter or hiking with her Dachshund mix Spencer.
Meaghan

Receptionist
Meaghan has always been a lover of animals, she grew up watching National Geographics, Crocodile Hunter and the Discovery Channel. It's no secret however, that cats hold a special place in her heart! She has 5 of her own including 3 males, and 2 females. Working with animals had always been a dream of hers, she wanted to help those without a voice of their own, so she joined the All Cats team in June of 2022. Prior to joining the team, Meaghan worked at several kennels, boarding facilities and other local veterinary hospitals. Some of her favorite hobbies include horseback riding, playing soccer and paintball. You can expect to meet Meaghan when you visit the office, she truly cannot wait to meet you and your kitties!
Maya

Receptionist
Myah has always had a passion for all things nature and animals, and started working in Veterinary Medicine because she really wanted to have an occupation where she could make an impact on the lives of animals. She truly enjoys working because I get to make sure that our client's animals are getting the care and services that they need. She hopes to continue working in this field so she can continue making a difference.


Myah has a tabby named Fiona, she was found outside at around 6 months old, who she has had for almost a year now. Fiona loves to watch the birds out the window most of all. Myah also enjoys spending time with all animals, traveling, exploring nature, and finding new things to experience.
Abbey

Veterinary Asistant
Ever since Abbey was a little girl, she has had a special love of animals. Whether it be dogs, cats, chickens, goats, or horses, she has a deep passion for the care and health of animals. Closest to her heart are horses; she is a crazy horse girl through and through. After witnessing tragic events and many unfortunate sicknesses, she gained a lot of experience assisting veterinarians and caring for the equine patients on the farm. Combining her love of science and passion for animals, Abbey has decided to pursue a career in veterinary medicine. She will be attending Veterinary Technician School in the Fall of 2023.
Animals are at the forefront of her life every day. She has two cats, Max and Tao, a rescued pitbull named Belle, and a paint horse named Rambo. Her animals are her whole world and she truly can't imagine a day without them. In addition to being an avid equestrian, Abbey horse shows locally during the summer and fall. She is also a huge bookworm and a sucker for a good romance novel. On my days off, she is either at the barn or reading a book!
Kayla

Veterinary Assistant/Technician
Animals in general have always been a passion of Kayla's and she's always wanted to help improve their lives. However, one animal in particular sticks out as her favorite - cats. She loved the fact that All Cats Care Center focused strictly on furry felines, and knew right off the bat that working there would be a perfect fit for her. As a veterinary assistant, she gets to live out her dream of working with her favorite animals on a daily basis! She currently lives in a house filled with cats (surprise!), which include wild Clementine, sweetheart Aaron and the sassy Seal. In her free time, you're likely to find Kayla studying as she's in school pursuing her veterinary technician license.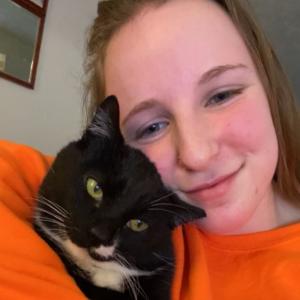 Holly

Veterinary Technician
Improving the lives of animals has been a goal for Holly since she was a very young child. What better way to fulfill that goal than to work in the veterinary field? Today, as part of the All Cats Care Center team, Holly gets to live her dream every single day! While attending school at Alfred State for Veterinary Technology, Holly joined the All Cats team as part of her preceptorship. It turned out to be such a good fit for everyone that she decided to stay on and continue her employment here. Professionally, Holly enjoys performing dental cleanings. She became licensed in March of 2022. Holly has a cat named Kitty Kiss who was adopted from All Cats Care Center, and 3 rats named Twix, Snickers, and Butterscotch.