Veterinary Grooming and Boarding Services
Grooming
Grooming a cat is tricky. If you can't find a local groomer to work your kitty in, our veterinary team offers medical grooming. Our grooming services focus on kitties affected by matting or dermatologic issues. We can also trim your cat's nails and give bloomer and sanitary haircuts.
Most cats find it scary to be groomed, which is why we sedate all kitties who come in for a grooming session. We'll do pre-sedation bloodwork beforehand.
If you'd like to schedule a grooming session for your cat, reach out to us for a quote. All cats must be current on their rabies shots and at least 10 days out from their last rabies vaccine.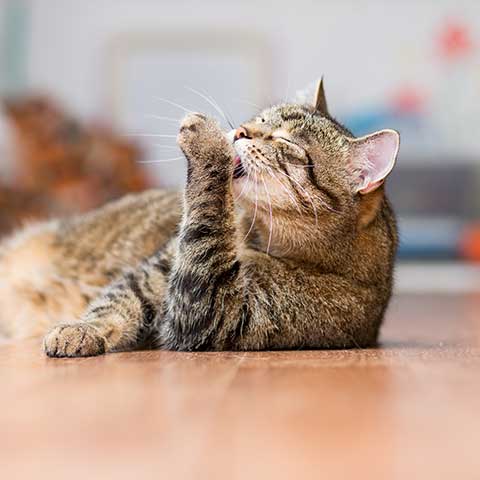 Boarding
We offer boarding on a first-come, first-serve basis. If you have a medically complex kitty, our veterinarians can provide medical care while you're away. The fees for medical boarding are different from regular boarding, however, so make sure to let us know if your cat will need medical care. This helps us give you an accurate quote.
All enclosures are 36 x 36. Kitties are allowed to come out and roam the hospital with supervision—as long as they're not aggressive to other cats. This gets them extra love and attention from our staff and clients! And our double-door exit is monitored to make sure the cats don't escape.
We provide water, beds, and litter boxes throughout our center. You can also send your kitty with her own bedding and food. Drop-off and pick-up times are coordinated on a case-by-case basis.
Boarding Requirements
All kitties who board with us must be fully vaccinated against rabies and distemper. We don't require you to be an existing client, but we do need to see your kitty for a wellness exam before confirming your boarding request. If you'd like to pair boarding with other services like grooming or dental cleanings, talk to our staff to confirm availability.
We recommend booking your kitty's boarding experience as soon as you know you're going to need it. Our practice tends to fill up around the holidays! Please call us to speak to a member of our team about pricing and availability.